In short, SUP Yoga (stand up paddleboard yoga) practices Yoga in the middle of a body of water on a stand-up paddleboard. SUP yoga is best practiced on calm water bodies, such as lakes, bays, and ports. SUP Yoga has become a trendy water sport for yogis and paddle-boarders in the last two years. Many yogis improve their yoga skills enormously by practicing SUP yoga because more strength, balance, and focus are required. Now, what is the best inflatable paddle board for yoga?
| Product Name | Product Image | Rating | Get It Here! |
| --- | --- | --- | --- |
| Peak 10' Yoga Fitness Inflatable Stand Up Paddle Board | | | Check Price |
| Driftsun Balance 11' | | | Check Price |
| Isle Scout Yoga Paddle Board | | | Check Price |
SUP Yoga Benefits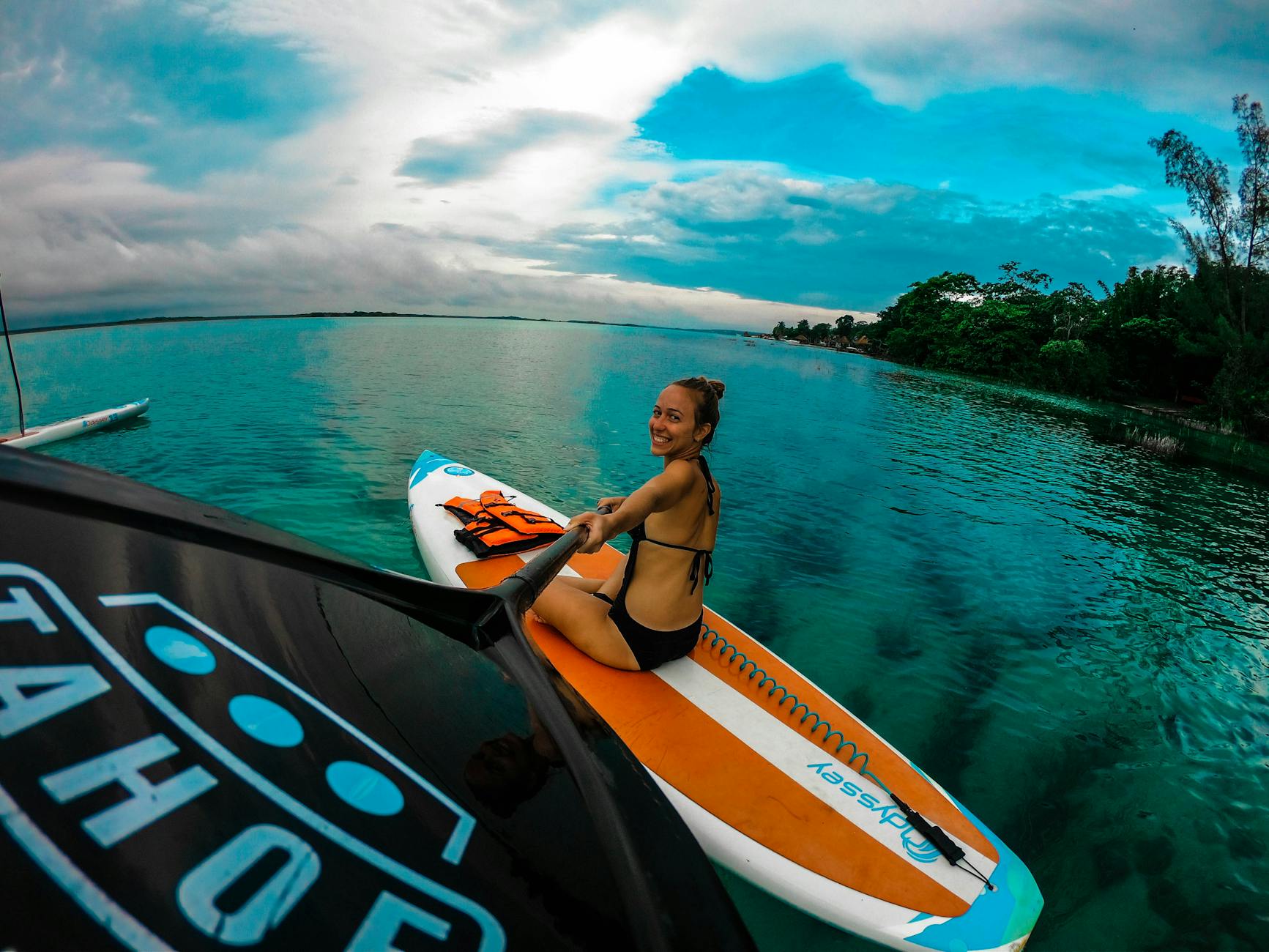 This exercise has many advantages. Below are some examples of SUP Yoga's many benefits. To enjoy this workout, you don't need a lot of yoga or paddleboarding experience.
Enhances flexibility
The different positions used in yoga increase flexibility and mobility. Paddleboarding also calls for many different muscles and contributes to strengthening muscles. The two combined exercises offer a broad range of motion, which works in various parts of the body.
Increases circulation
An important part of yoga is breathing. This has shown that circulation is increased. Yoga also contributes to stress reduction. Techniques for relaxation and stress reduction help improve circulation.
Enhances balance
Yoga focuses on balance improvement and maintenance. SUP Yoga works well to improve the balance, as a lot of balance is needed to remain on a floating board during yoga poses. Often workouts help to improve balance.
Great core workout
Yoga poses that the core area is combined to do a good workout with the use of core muscles. The core muscles are very important for balance.
Refined technical yoga
The technique improves with yoga as well as any training or sport. The additional paddleboard challenge helps to refine and enhance the experience.
Calming
The sense that the water floats can have a calming effect, yoga itself is very relaxing, and stress relieves. SUP yoga combines water quietness with a decrease in regular yoga stress. The feeling that nature is close by being on the water also calms the workout.
SUP Yoga Gear
You will need the essential gear for a typical paddling day.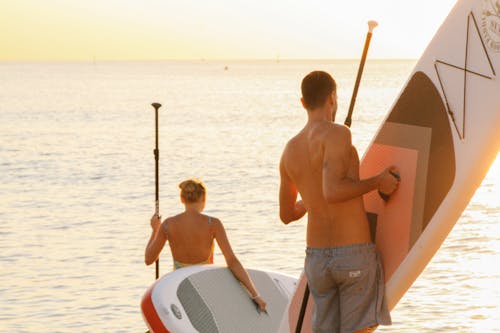 Stand up paddle board
There are a few boards made especially for SUP Yoga, but almost all of them are large and stable with a flat shape to the deck. The board with soft, padded deck extends towards the nose and tail of the board is helpful. This makes it easier to hold poses. Always remember to pick the best inflatable paddle board for yoga.
Paddle
Any SUP paddle will work. Just make sure that it's right for you. You can just set the paddle perpendicular to your board and close to your nose during yoga.
Or you can wrap the leash around your paddle a few times with a spindle leash, then let it float in the water behind you. With a non-coil leash, the hook-and-loop strap tightly secures to the shaft. The leash will keep the paddle away. Find out more about SUP paddles.
Leash
Typically sold separately from a paddle board, a leash tethers your SUP to you and closes the board when you fall off. Use the leash for SUP Yoga while paddling from the shore, and remove it once you anchor your board. Keep the leash on if you don't anchor your board so your board won't getaway if you're down.
Flotation system (PFD)
You must have a PFD with you while you are on the water. It is always a fine idea of wearing a PFD, but only adults must be on board by the Coast Guard. Different rules apply to children, so check the PFD laws of your state. If you are wearing a low-profile and compact inflatable PFD, it will not interfere with your yoga routine.
How To Choose The Best Inflatable Paddle Board For Yoga
Being outside and especially on the water adds another sensory dimension to yoga practice. From a physical point of view, being on board adds an element of instability which challenges and involves more muscles.
You might want to buy a board designed for SUP Yoga if you have decided that it will be something you do regularly. A SUP Yoga board has some Yoga features, but do you need such a specialist board?
Boards individually sold for SUP Yoga are typically a version of an existing stability board but have been modified to make the deck pad and accessories more specific to yoga.
When comparing features carefully, you may find that an all-around inflatable SUP best serves you with an ideal Yoga setup and good performance for other paddling activities.
Which Paddle Boards Are Appropriate For SUP Yoga?
While you can do SUP Yoga on almost any board, beginners want to start on the most stable platform possible. Most people know that its width dictates the stability of a SUP board. It is less known how the board's thickness affects its durability.
A 36-inch wide board could appear to be a clear choice for stability. But all bets are off if the board is 6 inches thick. A 34 cm wide and 5 cm thick board is actually more stable because it is lower on the water than the 6-inch board. You will immediately notice the difference when you try yoga on a 6-inch board and try the same position on a 5-inch board.
Note that a 5-inch board is a little easier to get back on than a 6-inch board if you are in the water, and you will enjoy paddling more if you don't do yoga.
The board length has but a small effect on the stability of SUP Yoga, especially with regard to suitable all-around alternatives, so choose a comfortable length of 10-11 feet. A shorter board under 10 ft will be difficult to spread over some positions, so in this case, a board bigger than most people.
What Should You Know About The Deck Pad?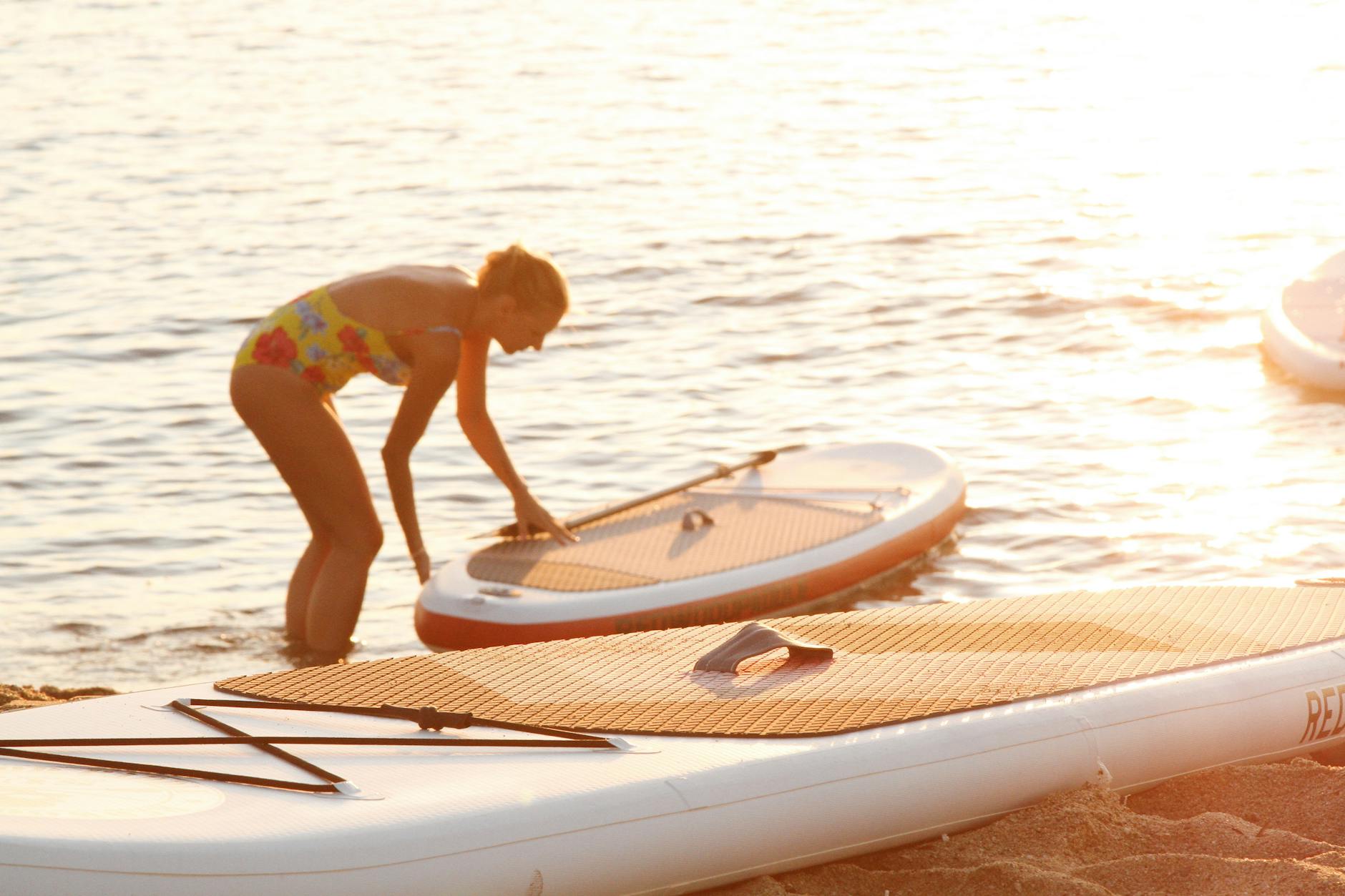 SUP Yoga boards often have a deck pad that runs the full board length. Although this may fit in with a preconceived understanding of how to look at a Sup Yoga Board, bear in mind that while you are doing yoga, you will never be on the board's extreme peaks.
A pad covering up to three-fourths of the surface of the board is sufficient. The additional space over the deck pad is where the bungee system is located to accommodate your bottle of water, your dry bag, and any other items.
You would like to make the deck pad plumbing and have a fairly flat texture, which will not leave marks on your skin. A light crocodile skin pattern gives you the grip you want but doesn't make a deeply grooved impression on your body. The towel's use is personal and depends on the intensity of your session and the weather, but most people will not use or require one if the deck pad has good control.
What Fin Setup Do You Need?
Fins have no direct impact on the board's performance on the water during SUP yoga. However, there are some advantages and disadvantages to different fins that affect the use of the board in general.
A permanent three-fin configuration works well for yoga because there is no need to stress lost or damaged fins, and it's easy if you start in a shallow area.
A configurable fin system with all fins removable adds some costs and removes the fins for SUP yoga on the ground. A board with a permanent 3-fin setup can be used on the ground, but it needs to be supported a few inches to keep the fins off the ground. For this purpose, a foam roller can be used, and most yoga enthusiasts would have a handy one.
If you expect to use the board for non-yoga purposes, then a configurable fin system that provides you with more flexibility to adapt the board to other uses and environments is also worth evaluating for all-around use. For most SUP setups, there's no correct answer to selecting either a permanent fin or a fully configurable fin setup.
The Best Inflatable Paddle Board For Yoga
Our Best Pick
Product Name: Peak 10' Yoga Fitness Inflatable Stand Up Paddle Board
Product Description: The Peak 10 'Yoga iSUP's weight is known. When completely inflated, it weighs only 18 lbs. The weight allows you to take the board to your preferred place. As you know, yoga is best done in a quiet and uncrowded place. The board is built with lightweight PVC and Korean Drop stitch technology. Even if you decide to use Peak 10 'for other activities that may involve bumping into rokes, you are assured of durability.
Availability: InStock
Durability

Convenience

Lightweight

Warranty
Paddleboard Yoga quickly becomes for many people the recreational activity of choice. Moreover, SUP yoga can be practiced on most SUP boards. But the best yoga paddles are usually wider and give you a more stable surface. So, which is the best inflatable paddle board for yoga?
Peak 10′ Yoga Fitness Inflatable Stand Up Paddle Board
The Peak 10 'Yoga iSUP's weight is known. When completely inflated, it weighs only 18 lbs. The weight allows you to take the board to your preferred place. As you know, yoga is best done in a quiet and uncrowded place.
The board is built with lightweight PVC and Korean Drop stitch technology. Even if you decide to use Peak 10 'for other activities that may involve bumping into rokes, you are assured of durability.
SUP Yoga is an excellent experience for you, given the measurements of the peak 10′. It doesn't take too much time and time to challenge the more complicated poses — which are a benefit. The size is just sufficient to ensure that you can do all the yoga you plan to do and create customized poses.
The manufacturer included a sack, pump, paddle, leash, snap-in, and waterproof telephone case. The accessories match the color of the paddleboard. In addition to all these great features, Peak Paddleboards offer you a 30-day warranty and a one-year guarantee.
Driftsun Balance 11′
This paddleboard had to be placed on the list. There's so much you'll love about the Driftsun iSUP as a SUP yogi. It's built first and foremost to be stable. The nose and tail are wide to provide maximum stability. This feature favors those who are just beginning or yogis who want to explore complicated positions.
There is enough space on deck for whatever you want to do. It has a length of 11 'and a width of 34. You can lie down comfortably if you feel like it. You can also bring a dog or a friend on the deck. The weight limit is 400 lbs, so be careful not to bend.
The PVC military standard used to build this board guarantees durability. Finally, the Driftsun does not deceive the SUP accessory bundle. It includes a backpack, a paddle, a leash, a loose fine, and a manual pump.
Users love the large deck, which allows them to bring their dogs to most of them. According to the customers, the iSUP and the included accessories are well made. The hand pump is a little bit of work, but they don't complain.
Isle Scout Yoga Paddle Board
Isle Surf and SUP is a famous company that manufactures all kinds of watersports facilities. Like the iSUP of yoga above, the Isle Airtech 10′ is very robust. However, this feature is not exaggerated, and the board is still ideal for other activities such as touring.
It was first marketed as a women's board but is now announced as a yoga board for all sexes. This isle iSUP has a width of 32 "and a length of 10." It provides plenty of room for yoga without being too bulky. It is made with the construction of Airtech that makes it virtually indestructible.
The paddleboard is equipped with a good accessory paddle, a backpack, a high-pressure pump, and a coil leash. There is a bungee strap for your luggage on the front of the deck. However, you may not be able to carry a lot. The manufacturer offers a guarantee of 60 days and a one-year guarantee.
Final Words
As you can see, the best inflatable paddle board for yoga has plenty of room to give you freedom during positions. They also have large soft pads, which are much like a yoga mat. Also, all pads are dog friendly so that you can bring your friend with you. SUP yoga is a wonderful activity, and with the right paddle board it is even more enjoyable. Choose the one that suits your style, then go on and experience the best adventure ever.